My new book, Harvest House, is set for release on 17.7.17. It's available for pre-order on Kindle now, and will also be available as a paperback.
Here's what the cover looks like, and here's a bit about the book itself…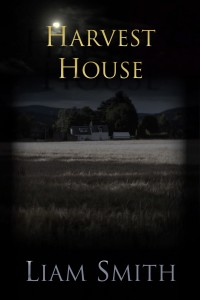 Most of my posts about writing, editing and publishing over the last year have been about After Life, the novel that has been occupying much of my time. After Life is finished – well, there's one last change to make – and I'm currently researching options for its publication. Whilst checking, editing, redrafting and researching my novel, I continue to write stories, and Harvest House is one such tale.
Like my first ever book, The Witching Hours, Harvest House is a novella. It'll probably take you a couple of evenings to read, and I hope you like it. Like The Witching Hours, it's a scary story, but unlike my first book it's a definite horror, not just a ghost story. I wrote it in early 2017, shortly after finishing the first draft of After Life, and it was refreshing and fun to pen something shorter and sharper than my full novel. Here's what it's about, according to the blurb:
On the run from a shameful secret, Mike Talbot finds himself injured and alone in a pastoral English village. Forced to spend the night at the seemingly empty Harvest House, Mike finds that is all not as it seems.
Dark figures stalk the nearby fields and songs and drums fill the air as strange folk converge for an enigmatic Festival. What horror lurks beneath the guise of ancient rural tradition? Will there be any escape from Harvest House?
It contains a lot of themes and features that interest me: the English landscape, black comedy, the occult, live music… Locations were inspired by places I've lived or stayed in, characters were inspired by people I've spoken to. I listened to a lot of 'occult rock' music to keep myself in the zone for this book; I've enjoy translating the moods that music evokes into writing.
Harvest House seemed to write itself, and I was able to draw on my experience of writing a full novel to help me with this one. I think it's more mature than The Witching Hours; I think I've learned a lot about the discipline of writing as well as the craft and technique, and that helped me to finish the book in just a few weeks. After redrafting and implementing feedback from my proofreaders, I referred back to my own guide on How to Build a Book Cover to design something that fitted with my other published works.
I'm really thrilled to announce the release of Harvest House next month.
Let me know what you think!