What makes any of us what we are? I think most people – myself included – reckon it's a combination of nature and nurture. Our tastes in things – the days out we like to go on, the kinds of people we like to hang out with, the kind of books we like to read – these are all influenced by the way we are as well as the things we've experienced. And we can examine what might inspire a horror writer.
I like writing about all things dark, fantastical and horrifying – you can read my books about witches, folksy cults and haunted carnivals for yourself. I'm pretty sure the groundwork for my interest in horror was laid from an early age. Here's a few memories that I think may have been the most resonant.

Horror Paperbacks: 'Salem's Lot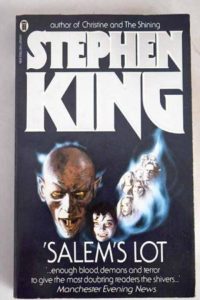 Look at this. I don't know what my first exposure to a horror writer was, and I don't know if just seeing this cover can technically count. But this fascinated me as a child, and I used to take my parent's copy off the shelf and stare at it when they weren't around.
Isn't it a gem? Those piercing yellow eyes. Those rat-like, Nosferatu teeth, so unnatural as to look like they're biting the tongue they share a mouth with. That pale, grinning face to the right. A decade and a half before I read my first Stephen King, I'd already equated him to the architect of nightmares. They don't make book covers like this anymore.
Ghouls and Graveyards: Goblin Hunts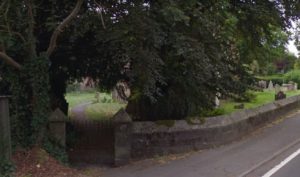 On the subject of Stephen King, my Nanna is an aficionado – she's got every single one of his books on her shelf. She's also responsible for introducing me to True Blood and Game of Thrones. And when I was around five years old, she took me goblin hunting.
A goblin hunt took place in the woods. After leaving the house we would stop to find a goblin stick. What it was for I can't remember – probably for poking at the undergrowth rather than for defending against a surprised goblin – but it was an essential part of the ritual. I remember a wood pile near a compost heap in Wilton churchyard being a good spot to grab a trusty stick.
The hunt itself was a tramp through the trees, with plenty of exploring gnarly stumps and nettle patches. Once or twice I remember definitely seeing a goblin.
Splatterpunk: Funfax Horror File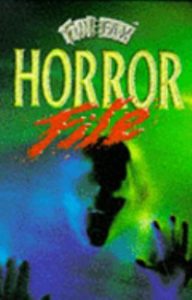 Both sets of grandparents had a part to play in forming the horror writer that authors this blog post. Grandma and Granda, as well as taking my sister and I on a PTS-inducing trip to the York Dungeon, got me a 'horror file' as a present. I don't recall how old I was – definitely primary school age, probably around seven or eight.
Looking back, it was probably pretty tame. But there were enough sketches of ghouls, serial killers and screaming faces throughout to have fascinated and hooked me. It was pretty broad in its scope too – profiles of supernatural beings and true-crime reports butted up to horror novellas and sticker sets. It went great on my bookshelf next to another well-known series…
Horror Sequels for Kids: Goosebumps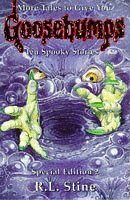 And on the subject of youthful horror, how could we leave out the ubiquitous Goosebumps? I remember Nanna and Granda (they of goblin hunting fame) bringing a whole stack with them on one visit. I can't pretend that Goosebumps is a unique part of my childhood – I think everyone of my generation will remember both the books and the TV series, with its nostalgia-inducing theme – but it's worth extolling its virtues here.
My most memorable of R. L. Stine's impressive oeuvre are Curse of the Mummy's Tomb (which chimed well with my lifelong interest in Ancient Egypt), Night of the Living Dummy III (borrowed multiple times from the old Tidworth library), and Escape from the Carnival of Horrors (hey, that rings a bell). I also had a short-story collection, which culminated in The Spirit of the Harvest Moon – a phrase which still brings me out in, well, goosebumps, to this day.
True Gothic Horror: The Whitby Witches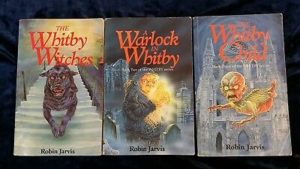 I don't want to linger too long on literature. It's too easy to draw a link between the books I liked and the books I write. But I'll spare some time for The Whitby Witches, by Robin Jarvis. I re-read the trilogy a couple of years back and found them as gripping as I did when I was read them before bedtime by my mum (age nine, give or take?).
When I was a child, I engaged with the child characters in the novels the most, and I found the books exciting and scary. As an adult, I was surprised to discover how few punches Jarvis pulls as a horror writer for young adults. These were books that are suitable for children, but are unafraid to kill off characters. They introduce adult themes and include characters that are actually evil.
Essential reading, and an indisputable influence on what I'm into today.
Quoth the Raven: Eat My Shorts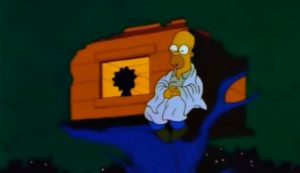 Okay, after all that literature, let's lower the tone. Let's bring up The Simpsons. But not just The Simpsons; the Treehouse of Horror episodes.
My sister Maisie has written a brilliant post about how one segment of Treehouse of Horror has stayed with all into her adulthood. I'm going to focus another one though: Lisa's retelling of Edgar Allan Poe's The Raven (which you can watch here).
I saw this adaption before I'd even heard of Poe, just as I watched The Shinning before the Shining. But it struck a chord with me. The bit where Homer opens the door and stares down the empty halls… It just seems so desolate and isolated, as if things are happening in their own sphere, surrounded by void. The poetry evidently stuck with me too – Poe remains my favourite poet (and one of his turns of phrase informed the title of this post).
Folk Horror Country: On a Plain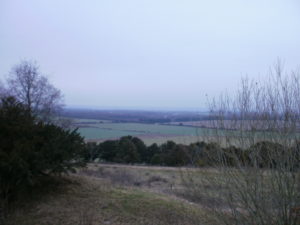 Lastly, I'll spare a word for where I grew up. We moved a bit when I was young, but landed on Salisbury Plain when I was six or seven. I've since left home and moved near Brighton, but my parents are still there, and I did the bulk of my growing up in a little village with my bedroom window overlooking a wheat field.
Sound familiar? If not, you should definitely read this. I can't understate how wonderful it was to wake each morning and look out the window onto this view instead of a row of houses. The field stretched right to the horizon, though actually it was probably only a quarter of a mile wide.
From the house it was only a ten-minute walk and you were on Salisbury Plain itself. I loved taking my bike there or just going for a stroll. Wiltshire's terrain is more rugged than that of Sussex, where I live now. A network of chalky tracks – tank tracks, we called them – web across the landscape, through woods and plains, past tumuli and up to great vantage points for views. Stonehenge is also only a ten-minute drive from where I grew up – but if it's a stone circle you're after, I'd recommend Avebury, where the scariest kid's TV serial ever made was filmed.
I still love a good walk – it's a great way to clear your head, or fill it with ideas – and Salisbury Plain is still my favourite place to do it. In my childhood mind, those woods became haunted forests. The tank tracks were a maze; a labyrinth. The tumuli were barrows, straight out of Tolkien. The undergrowth became… Goblin dens?
From Childhood's Hour
Well, there we go. A little insight into my childhood, and the things that particularly stick out as early inspirations for the horror writer I am today. Do you have any memories that have stuck with you to this day? Perhaps we share a few! Let me know!