Welcome, friends, to the creaking halls and torchlit chambers of my blog. Advance as puffs of dust burst from the thick carpets and fleeting shadows flitter in the peripheries of your vision, and follow the trail of incense and ghostlight to the library. Today we are pawing through the most infamous and noteworthy volumes that I have read this year so far.
Best book you've read so far this year
Night Shift – Stephen King (1978)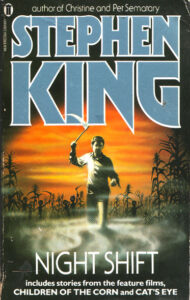 I've read 34 books so far this year. New books, old books, novels, memoirs. Nothing's been better than this classic collection of terrifying vignettes written in King's signature conversational style. His imagination is boundless and his ability to do justice to his ideas makes Night Shift the King of all books I've read so far this year.
The tales that have wormed into my head and stayed the longest include The Ledge, where a crime boss finds out who his wife has been cheating with, and has the unenviable soul edge his way round the outside of his penthouse on a five-inch ledge, Children of the Corn, where a couple driving through the dustbowl discover a cult of children who worship in the cornfields, and Battleground, where a boxful of toy soldiers attack a trained assassin in his apartment.
Best sequel you've read so far this year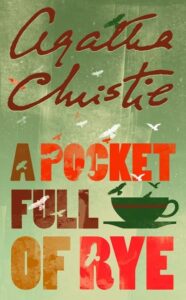 A Pocketful of Rye – Agatha Christie (1953)
I haven't actually read any sequels this year. Actually, I don't think I'm much of a sequel man; I think horror novels (mainstay staple of my literary diet) work very well as standalones. But serieses – I readses a few of those. Christie's mysteries are classic because they still feel fresh and surprising today, seven decades after they were written. A Pocketful of Rye is a Miss Marple story and I loved the device of using a nursery rhyme as a frame for murder – our first body has pocketful of (spoiler alert) rye, and our tale includes blackbirds baked into a pie too. Plenty to get your teeth into.
New release you haven't read yet, but want to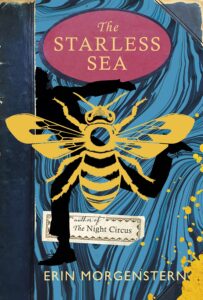 The Starless Sea – Erin Morgenstern (2020)
I loved The Night Circus. It's written in such an ornate, rich style, it's like read-eating a box of Belgian chocolates – you savour it even if you can't help doing the lot in one sitting. Erin Morgenstern's second book has had a long gestation period but I'd rather that than something that won't live up to what she's done before. Which was something truly special.
Most anticipated release for the second half of the year
You know it shames me to say that I don't have my finger on the pulse of what's current and shiny and new. I tend to work through an author's catalogue when I discover them, or refer to my must-read horror list, neither of which is a good way of reading Recent Books. Once upon a time I'd go to my lovely local Steyning Bookshop and ask what they'd recommend – now that lockdown is easing I'm looking forward to going back.
Biggest disappointment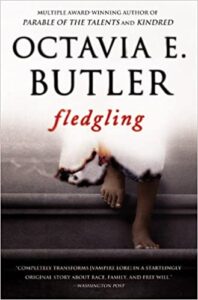 Fledgling – Octavia E. Butler (2005)
You won't see this one on my end-of-year headcount, because I didn't get to the end. It's on my list of must-read horrors which I compiled from lists around cyberspace, so I read just enough to write a synopsis. It's the first one on the list I've given up on. Why? Same old tropes about nests of vampires, rules about vampires and human coexisting, some overly-convenient vampire powers that help the plot along… If it was beautifully written it might be forgivable, but I couldn't get into it.
Biggest surprise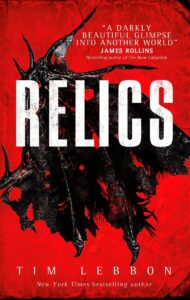 Relics – Tim Lebbon (2017)
I read this because it was linked to an agent I sent my manuscript to. It was a cracking read; a modern thriller in approach and (fast) pacing, but once you throw in a black market in relics – chopped up remnants of fantasy creatures – it becomes something very original and fun. And action packed. A grown-up Artemis Fowl? I'll read more of Lebbon's.
Favourite new author (debut or new to you)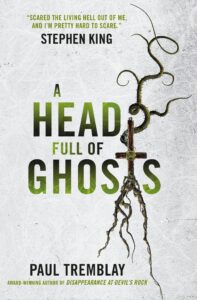 Paul Tremblay
Dark forces guided my finger down my horror list, alighting on A Head Full of Ghosts by Paul Tremblay. I read it. It terrified me. A modern take on The Exorcist et al, it was very smart and very scary. If there was one thing I wasn't so fond of, it was that the book made explicit reference to what had influenced it. That niggle was ironed out with my second Tremblay read, The Cabin at the End of the World, which is totally original and oh-so gripping. I read with bated breath and you will too. It won't be long before I've done all of his.
Newest fictional crush
Crush? That's a dangerous thing to ask a reader of horror. Though I don't remember a crushing scene exactly. I'll have to get back to you.
Newest favourite character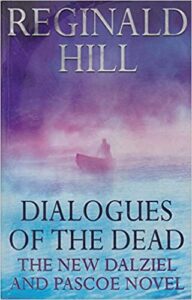 Andy Dalziel – from the mind of Reginald Hill
I read my first Dalziel and Pascoe this year, Dialogues of the Dead. As a wordsmith I liked the plot centred around those itty-bitty parts of sentences (words that is), but it was Dalziel's character that will get me reading more of the series. His quips are rude and hilarious, and Hill captures his appearance and foibles with deft applications of apt adjectives. Would I want to be at the receiving end of his sharp tongue? No. But I'd like to read about the poor soul who is.
Book that made you cry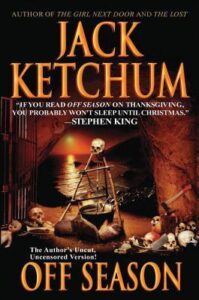 Off Season – Jack Ketchum (1980)
I haven't cried at any book this year (the last book I remember shedding a tear over was Robin Jarvis' The Whitby Child. What a climax!). But Off Season sure as hell made me wince. It's an unflinching hillbilly horror, and things get as nasty as you would expect when said inbred yokels emerge from their dank cave to attack a houseful of visitors to the area. The version I read was the author's preferred text – uncut, as it were. Which is more than can be said for the poor city-slickers who should've stayed in New York.
Book that made you happy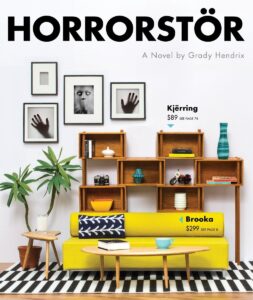 Horrorstör – Grady Hendrix (2014)
Sometimes you read a book and you just can't wipe the smile off your face. Such was the case with Horrorstör, a haunted house-style horror set in Ikea. Or ORSK, as the book would have it – a similar flatpack-flogging Scandi superstore in which our heroine, Amy, is trapped for the night with a team of friends, enemies and ghosts. It balances comedy and horror perfectly, but whatever you do, get the paperback version. It's laid out like an ORSK brochure and it's just a pleasure to turn each page over and see what's next. And don't think I didn't notice all the serial numbers had 666 in them somewhere.
Most beautiful book you've bought so far this year (or received)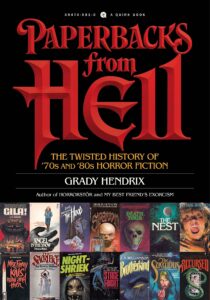 Paperbacks from Hell – Grady Hendrix (2017)
Not a novel or even a fiction book, but Paperbacks from Hell is surely the most beautiful book I've bought this year. A tour through horror paperbacks of yesteryear, every page is splashed with lurid painted book covers promising bloodshed, ghost kids and city-sized mutant creatures. Grady Hendrix (yes, he of Horrorstör fame) guides us through a history of the horror paperback with passion and wicked sense of humour.
What books do you need to read by the end of the year?
I long-term borrowed Danse Macabre by Stephen King earlier this year and haven't got round to reading it yet, but look forward to when I do (I love On Writing, King's other non-fiction opus). Steyning Bookshop recommended The Turn of the Key by Ruth Ware – I'll be getting to that shortly. And I've just had Richard Laymon's All Hallows Eve sent my way. It looks like something out of Paperbacks from Hell and I can't wait to get my teeth into it – though I'll see if I can stave off the hunger pangs until appropriate October…
Well that's my piece – what are the most noteworthy books you've read this year?
This post was directly inspired (nay, stolen) by the fine writings of Millenial Maize, who you must follow on Twitter and whose blog you must add to your bookmarks bar. I think she got the format of the Mid Year Book Freakout (surely some of those words should hyphenated?) elsewhere, but it is to her treasury I shall be posting the royalty cheques.
If you enjoyed the post, let me know. And if you really enjoyed it, try one of my books! Who knows, it might end up on your Summer Reading Review!