Welcome, friends, to the creaking halls and torchlit chambers of my blog. Advance as puffs of dust burst from the thick carpets and fleeting shadows flitter in the peripheries of your vision, and follow the trail of incense and ghostlight to the library. Today we are pawing through the most infamous and noteworthy volumes that I have read this year so far.
Best book you've read so far this year
Night Shift – Stephen King (1978)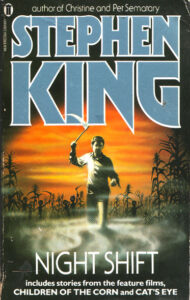 I've read 34 books so far this year. New books, old books, novels, memoirs. Nothing's been better than this classic collection of terrifying vignettes written in King's signature conversational style. His imagination is boundless and his ability to do justice to his ideas makes Night Shift the King of all books I've read so far this year.
The tales that have wormed into my head and stayed the longest include The Ledge, where a crime boss finds out who his wife has been cheating with, and has the unenviable soul edge his way round the outside of his penthouse on a five-inch ledge, Children of the Corn, where a couple driving through the dustbowl discover a cult of children who worship in the cornfields, and Battleground, where a boxful of toy soldiers attack a trained assassin in his apartment.